Lilium growers gear up for high season
Posted by

Aksh

on

Tuesday, 19 May 2015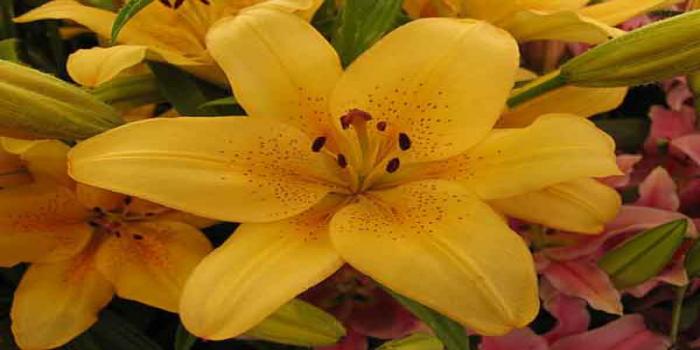 "Lilium has round-the-year market unlike wedding seasonal flowers, but the high-market season commences in September and peaks from December to February. It takes three months for the flowers to be ready for harvest and, hence, progressive growers planning for high-season business are now preparing to stock the imported bulbs which they will plant end-May and June. 
Already, bulb-containers have started moving from the Netherlands. In 2008, India is expected to import 70 containers of 1.5 to 2 lakh bulbs a container from different suppliers against 50 containers last year," Dr K. Valliappan, President (Agro Division), Eureka Group, representative of Dutch flower-bulb major VWS, told Business Line.
High investment cost
Dr Valliappan, along with Mr Arjun, Chairman of Eureka group, has surveyed the growers' requirement in Nilgiris. "Cold storages are being readied to receive the fresh bulbs. LCs for imports had been opened last month. Since import requires the blocking of Rs 15 lakh-20 lakh a consignment and three consignments a year are required for an acre, the investment cost is high for the growers. 
Also, cold storage of minus 1.5 degrees Celsius is required. Small growers use traders' services for import and stocking. They get legally valid quarantine-cleared bulbs from importers holding licences under the Plant Quarantine Act," Mr Arjun said.
Price range
Currently, oriental lilium fetches Rs 35 a stem and Asiatic Rs 22. A fortnight ago, the price of oriental lilum rose to Rs 48 due to festival demand. 
"The average price is Rs 18 to 20 for Asiatic and Rs 30 to 35 for oriental. Ordinarily, growers get a net profit of Rs 2 a stem. In an acre, growers earn a profit of Rs 4 lakh in a season of three months. They normally go for two crops a year. With about three lakh Chinese lilium stems being imported annually, there is bright scope to augment production," Dr Valliappan explained.