Kanak-kaich bamboo cultivation helps small farmers
Posted by

Aksh

on

Tuesday, 5 May 2015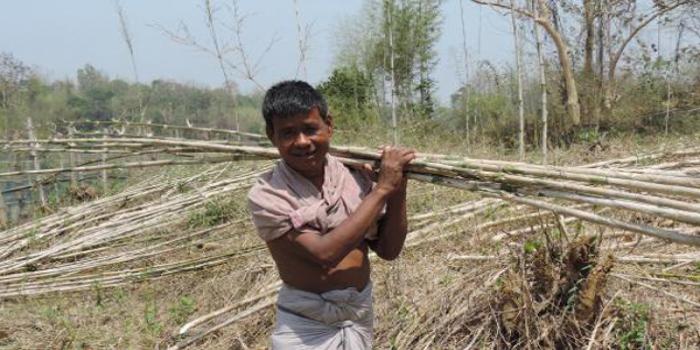 Whatever be the crop, farmers need guidance at the right time for harvesting a good yield. Right from availability of good seedlings, pest management strategies, regular visits to the plantation sites by experts and sourcing a good market for the produce are not only a farmer's tasks but also involve the experts dealing in the particular area.
"The job becomes more challenging when one has to work among tribals and small farmers because the land resources, climate and inhospitable terrain all add to the difficulty of achieving a good yield.
Small holdings
"The government of Tripura under the Tripura Bamboo Mission, a public-private partnership (PPP) initiative of the Government, has been able to help small and marginal farmers and tribals to grow a bamboo variety called kanak-kaich in their small holdings and also market their produce, thus helping them get some better income," says Dr. Ram Narayan Pandey, Program Manager, Tripura Bamboo Mission (TBM).
The aim of the mission is to promote bamboo cultivation on individual lands for livelihood generation and enterprise development.
The target beneficiaries include schedule caste, schedule tribe and below poverty line households especially forest dwellers who have been allotted some small acres of land by the government. The district administration supports the initiative under MGNREGA (100 days rural employment scheme) for creation of sustainable assets and employment.
"We are trying to promote 5,000 hectares of commercial bamboo plantation in the next five years for rural employment and sustainable bamboo industries in the State," says Mr. Pravin Agrawal, Director of TBM.
During the pilot scale implementation started four years ago, the innovative high density bamboo variety has been able to get a good response from cultivators as a commercial crop for the poor.
Good demand
"More than 2,000 households in Tripura now grow kanak-kaich bamboo. About 350 applications have been received from several villages to undertake this bamboo plantation in the present year under MGNREGA (100 days rural employment scheme)," informs Dr. Pandey.
The cost of establishing an acre of kanak-kaich variety plantation for first three years works out to around Rs. 65,000. The expenditure incurred in the first three years is recovered in the first harvest done during the fourth year of planting and farmers can harvest the crop for 15 years without any intensive management.
According to Dr. Pandey, the average annual income from plantations was 65,000 per acre.
Saleable parts include bamboo poles at Rs.3 to Rs.15 per pole and the bamboo shoots sold at Rs. 5 to Rs.7 as planting material.
Annual income
Mr. Ratindra Acharjee from Vidyasagar gram panchayat who is growing this bamboo variety was able to get an annual income of Rs. 80,000 from an acre. He received the progressive farmer award during the first bamboo farmers' conference held during January this year.
"It is the technology guidance from the bamboo mission and complete support under MGNREGA scheme that makes many people like me want to grow Kanak-Kaich variety," he says.
Mr. Ranajit Debbarma, another farmer who planted the variety two years back, is now a proud owner of a motor cycle.
"This is the easiest way out to cross the line of poverty for tribal folks like us. Previously we were growing rubber trees. But rubber takes too long for a poor person to earn some money and this type of cultivation suits us," he says.
Suitable areas
"Kanak-kaich variety can be cultivated as a rain-fed crop all over the country especially in the North-Eastern States, Maharashtra, Kerala (Western Ghats), Uttarakhand, Uttar Pradesh, parts of West Bengal and Orissa where soil and air moisture is high most of the year. In other States it can be grown only under irrigated conditions" says Dr. Pandey.