Iowa Farmers Start Corn Planting
Posted by

Aksh

on

Saturday, 2 May 2015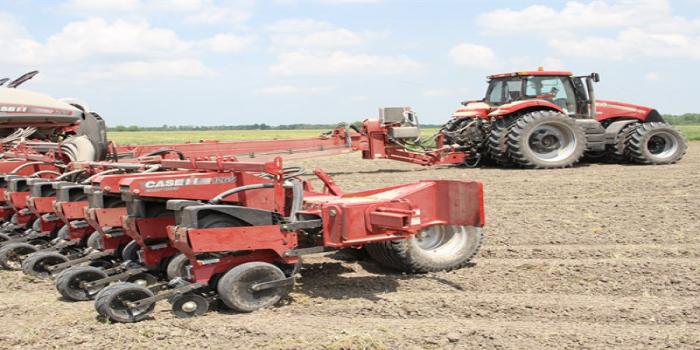 Iowa farmers have begun planting this year's corn crop, which is expected to be smaller than last year as some producers switch to soybeans to improve their income.
Seven percent of the corn acreage has been planted, four days ahead of last year, but equal to the five-year average, according to the U.S. Department of Agriculture's National Agricultural Statistics Service.
Iowa farmers are forecast to plant 13.6 million acres of corn, down 1 percent from 13.7 million acres in 2014. The state's farmers are expected to plant 10.1 million acres of soybeans, up 2 percent from 9.9 million acres in 2014.
There were 4.4 days suitable for fieldwork in the week that ended on Sunday. Farmers used the dry period before rain arrived over the weekend to haul manure, till, seed oats, apply anhydrous ammonia and plant corn.
Seventy-four percent of Iowa's oat crop has been seeded, over two weeks ahead of last year, and one week ahead of the average. Twenty-one percent of the oats have emerged, a week ahead of last year, but fractionally behind normal.
Topsoil moisture levels were rated 1 percent very short, 13 percent short, 76 percent adequate and 10 percent surplus. Subsoil moisture levels were rated 2 percent very short, 18 percent short, 76 percent adequate and 4 percent surplus.
North central Iowa reported the highest topsoil moisture level with 98 percent rated adequate to surplus,
Pasture condition improved to 52 percent good to excellent. Pastures continued to green up, with reports coming out of central Iowa of cows being moved to pasture.
Commenting on the USDA report in a news release, Iowa Secretary of Agriculture Bill Northey said the rain over the weekend was welcomed in most of the state. Northey said it will help replenish soil moisture levels and improve the condition of pastures.
By George C. Ford, The Gazette, Cedar Rapids, Iowa